Zombie Road Trip
Zombie Road Trip Description:
This zombie game, Zombie Road Trip, is a cross platform (iPhone, iPad, and Android) endless zombie killer game. You'll drive like your car is stolen in this endless zombie driving game because you're being chased by a large hoard of zombies flip, land, run over, decapitate zombies, and see how far you can get before being consumed by them.Race against the unrelenting Zombie Horde across the great wastelands in the never-ending game of survival. Shoot the zombies ahead with your impressive arsenal of weapons and witness true ragdoll-packed gore galore!Perform tricks to get boost and drive as far as you can in the frantic game of make tricks or die a horrible death" This zombie game is much like the hit online and iPhone game Earn to Die, and other zombie games where the objective is to see how far you can get while driving through endless zombie obstacles.Zombie Road Trip is fun at first, but then you'll find that you quickly hit a difficulty wall in this zombie game that requires patience to "earn" your way through collecting coins, which do not accumulate fast or purchase coins through in app purchase (IAP). I purchased the 2x coin multiplier for $1.99 and did not find it worth the money. The next best IAP starts at $2.99, which is high even for a good freemium game. Zombie Road Trip is a well made zombie game, but as with many freemium games the difficulty ramps up to try and force an IAP, which is unfortunate.Zombie Road Trip - coming from Spokko and Noodlecake.
Game Features:
34 unique cars
5 landscapes each with its own distinct look
fully randomized terrain (every play through will feel brand new)
dynamic zombie demolition engine (every collision will look awesome and new)
10 exciting weapons to dispatch your foes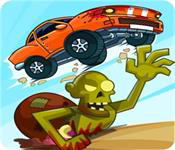 System Requirements:
OS: Windows 7/XP
CPU: 1.0 GHz
RAM: 256MB
Related Games:
Top Tags
Other Top Games
Free download Zombie Road Trip Game At P5Games.