X-Men: Destiny
X-Men: Destiny Description:
Choose from three unique new characters to play in X-Men: Destiny. Decisions you make at key moments in the story will alter your destiny and the way other characters interact with you. Expand and alter your power base as you encounter opportunities to earn and equip X-genes enhancements that allow you to experience your favorite X-Men characters' abilities. Whether you choose to fight alongside or against famous X-Men comic book characters, including Magneto, Wolverine, Cyclops and Gambit, you'll have your work cut out for you. As a member of X-Men, you'll fight to unite man and mutant, or as a member of the Brotherhood, you'll fight to dominate mankind. The choice is yours.Come to terms with your own background and mutant identity as you try to uncover the truth behind this encroaching event. Your allegiance will be tested, and ultimately you'll have to decide to either follow the teachings of the X-Men or usher in a new age of mutant domination under Magneto's Brotherhood of Mutants. It's up to you to define your Destiny.
Game Features:
Decide the fate of a new mutant through decisions you make as you advance through the game
Choose from three brand-new mutant characters in X-Men lore to play
Explore the branching storyline written by acclaimed Marvel writer Mike Carey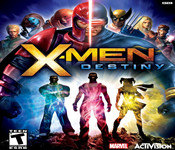 System Requirements:
OS: Xbox 360
CPU: Nintendo DS
RAM: Nintendo Wii
Related Games:
Top Tags
Other Top Games
Free download X-Men: Destiny Game At P5Games.