Virtual Villagers Origins 2
Virtual Villagers Origins 2 Description:
Return to the famed and mystical island of Isola and be drawn into the latest edition of the beloved Virtual Villagers series! In the wake of a volcanic terror on the neighboring island of Asura, a family has made their way to Isola, seeking a new home. As their boat lands on the beach, they are greeted by a strange man and begin to explore this mysterious new world. The beautiful and curious island of Isola was once a paradise home to a thriving civilization but has gone to ruin and untamed jungle. The twists and turns will leave you discovering new, interactive, magical moments at every turn! Be the master of your own village in this exciting strategy adventure game.
Game Features:
Breed, heal and care for your beloved village
Gather and combine resources
Train villagers to survive in their new world
Explore the charmed island to solve all-new puzzles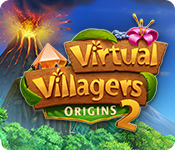 System Requirements:
OS: Windows 7/Windows 8/Windows 10
CPU: 2.0 GHz
RAM: 512
Related Games:
Top Tags
Other Top Games
Free download Virtual Villagers Origins 2 Game At P5Games.