The Amazing Spider-Man
The Amazing Spider-Man Description:
The Amazing Spider-Man is a single player Action-Adventure game designed to coincide with the 2012 major motion picture. The game is an exclusive video game adventure that continues the story told in the film. Features include, an open-world game design that allows the player to roam the game environment as they will, the "web rush" feature that allows Spidey to sneak up on opponents, new and reimagined enemies, and a random mission play option.Harness Spider-Man's powers with Manhattan as your playground...Set shortly after the events of Columbia Pictures' new film, The Amazing Spider-Man throws New York City's brand new hero back into free-roaming, web-slinging action, as he protects the Big Apple from a deluge of unimaginable threats. Enjoy challenging Action Platforming gameplay, set in an open-world game environment packed with real-time navigation and combat choices. Utilizing set, and random mission play, fight small-time crime, participate in unusual photography shoots, and defeat an array of reimagined enemies familiar from Spider-man.
Game Features:
Spider-Man's Triumphant Return to New York
Web Rush: Player Choice Evolved
Find Out What Happens Next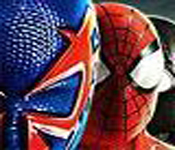 System Requirements:
OS: Win 7, Vista and XP
CPU: 2.6 GHz
RAM: 3 GB
Related Games:
Top Tags
Other Top Games
Free download The Amazing Spider-Man Game At P5Games.