The Amazing Spider-Man 2
The Amazing Spider-Man 2 Description:
It's great to be Spider-Man. For Peter Parker, there's no feeling quite like swinging between skyscrapers, embracing being the hero, and spending time with Gwen. But being Spider-Man comes at a price: only Spider-Man can protect his fellow New Yorkers from the formidable villains that threaten the city. With the emergence of Electro, Peter must confront a foe far more powerful than he. There's a lot going on in Amazing Spider-Man 2, and sadly it doesn't always come together. The whole 'should-they-shouldn't-they' dilemma of Gwen and Peter's relationship forms a huge part.The more traditional aspects of the plot are put in motion by Dane DeHaan's Harry Osbourne, who returns to New York to head up Oscorp.In a perfect world, we're guessing, Spider-Man and Electro may even have been friends. All being well, Electro could have been loved and respected and not set off every car alarm on every street he walks down, thereby probably making himself the most hated man in New York before he commits his first crime. But sadly it is not to be. Near the end, superhero and supervillain proceed to square off in pitched battle inside the pitch-black city, while the Goblin clears his throat backstage. Gwen Stacy, true to form, watches anxiously from the wings.
Game Features:
The official game for the film The Amazing Spider-Man 2!
A new story expanding on the film with 6 major villains and new characters from the Marvel Universe!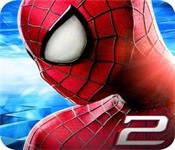 System Requirements:
OS: Windows Vista/7/XP
CPU: 1.5 Ghz
RAM: 1 GB
Related Games:
Top Tags
Other Top Games
Free download The Amazing Spider-Man 2 Game At P5Games.