Talking Tom & Ben News
Talking Tom & Ben News Description:
Join them in their TV studio, talk to them and watch them take it in turns to repeat what you say. Poke or swipe the screen and have them fall off their chairs! You can even create the news by placing your own video or photo on their TV screen!You can express your creativity by creating the news or just enjoy watching the two tease each other. Either way, you'll have a bundle of fun!Check out all hilarious animations by getting the full app now!IMPORTANT - To remove all ads within the app you will need to make an in-app purchase.At Outfit7, we believe that having fun is the key to staying young at heart. It's also the key to getting kids and adults alike engaged in creative communication--a catalyst to inspiration, imagination, and learning. Which is why we have created a series of fun, quirky interactive 3D characters. You play, you giggle, you learn. Then, you pass it on.
Game Features:
Talk to Tom and Ben: See them take turns to repeat what you say.
Watch them interact with one another: They tease each other in a hilarious way!
Co-create the news: Upload your own video or photo and see what happens.
Send videos to your friends: Record your own news story and share it on Facebook, YouTube or email!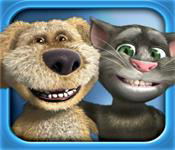 System Requirements:
OS: Android 2.3
CPU: 1.0 GHz
RAM: 256MB
Related Games:
Top Tags
Other Top Games
Free download Talking Tom & Ben News Game At P5Games.