Talking Pierre the Parrot
Talking Pierre the Parrot Description:
Talking Pierre the Parrot is a fun flash remake of the popular mobile game Talking Pierre the Parrot. Pierre is a very energetic parrot who lives in Tom Cat's kitchen. He's still a teenager and likes to cause a lot noise. If you use a microphone you can talk to Pierre. Use your mouse to play Talking Pierre the Parrot game. Click on Pierre and the buttons on the play screen to interact with him and play with him.This little app is very entertaining, my grand children especially have fun with it. While waiting for a new set of tires to be put on my car,a lady setting next to me in the waiting room had a 6 year old that was getting out of control. I showed him this app and he played with it the rest of the time we were there. Calmed him right down. The genuine bonafide talking parrot has many tricks up his sleeve and he's ready to have all the fun in the world with you! He repeats after you and makes up new sentences, he rocks it out like a true guitar hero and he dodges those tomatoes like a pro!Enhance the fun by getting the FULL Talking Pierre app which is filled with new animations and responses!
Game Features:
Talk to Pierre: He repeats and invents his own sentences!
Play with Pierre: Try hitting him with a tomato, listen to him rock out on his guitar and have him throw cutlery at you!
Interact with Pierre: Rub his belly, poke him or have him jump the way you want him to!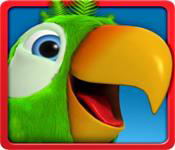 System Requirements:
OS: Windows Vista/7/XP
CPU: 2.0 GHz
RAM: 1.5G
Related Games:
Top Tags
Other Top Games
Free download Talking Pierre the Parrot Game At P5Games.