Talking Larry the Bird
Talking Larry the Bird Description:
Meet Talking Larry the Bird, the third character in the Talking Friends series by Outfit7. Larry is your talking and whistling friend but his cage doesn't take up space and he won't be chirping or talking at you when your napping or entertaining guests. Talking Larry responds to your touch and will repeat back everything you say in his sing-song voice. Record videos of Harry chattering up to 30 seconds, save them to your gallery, and send them as MMS or share them on YouTube, Facebook, or via e-mail. Enjoy hours of fun and laughter with your new favorite pet.Play with Larry the Bird:Play on the piano keyboard and Larry will whistle,Talk and he will repeat everything you say,Poke him in the head or body,Give him seeds to eat,Strike him with lightning,Press the applause button and watch him bow.WHISTLE, SING and FLY… Meet Talking Larry the Bird, your very own singing, feathered friend.Unleash your inner musician by making Larry whistle along to everything you play – and share your amazing songs on Facebook or YouTube!Talking larry helps with speech for my autism grandson as well as with all the repeating dogs,cats,and etc.he also gets to play.As before I got this for my granddaughter and she loves these. She now turns on my tablet and can work them by herself and she is only three. Whomever creates the animated creatures has a great sense of humor and when I need a chuckle and also feel the need to do similar to whack a mole often at fairs , well Larry suits my need to laugh , knock him off and just love it!
Game Features:
Talk to Larry: Speak and he repeats what you say in his own hilarious voice.
Play with Larry: Stroke him, poke him and see what happens.
Feed Larry: Give him seeds and watch him peck!
Explore the fun actions: Hit Larry with a bolt of lightning or make him take a bow.
Become a musician: Use the piano keys to make Larry whistle any song you play.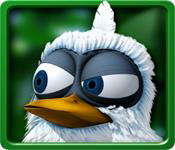 System Requirements:
OS: Appstore for Android
CPU: 1.0 GHz
RAM: 512 MB
Related Games:
Top Tags
Other Top Games
Free download Talking Larry the Bird Game At P5Games.