Talking James Squirrel
Talking James Squirrel Description:
Talk to James Squirrel. He answers with his funny voice and reacts to what you say or your touch. In addition, play with James and his Piano! Play your favorite Song and James will love to sing for you. James has also 4 exciting inside games with many levels to play!Spend some time with James this cute a little bit crazy squirrel. He will show you some of his Karate moves, his passion for music/ singing, his favorite games and much more.Extra Content:- Comics & Cartoons: We have comics involving different subjects as for example: cars, music, tv, dogs, food, cinema, sports and many many more.- Jokes Collection: Funny jokes divided in different categories. You will find funny jokes about: weather, jobs, cats, rangers, manager, men, etc. - General knowledge: Do you know all the things about history, machines, geology, geography, biology, environment, economy, people, science etc.? - Photo Fun Functionality: Create funny and fake images/pictures and send per mail, share pictures with Whatsapp, Twitter, Skype, another Messenger Tool or upload them to Facebook, Flickr, Dropbox etc. Upload your pics and turn yourself or your friend into a dancing smiley, an alien, a sweet baby, a donkey, a giraffe, an ostrich, a mouse, etc.Give your pictures a personal touch. Select either a photo from your gallery or an image which is already faked. Take the selected pic and start personalizing by choosing between numerous stickers. You will be spoiled for choice in selecting the coolest sticker. It contains stickers with various subjects like, hats, wigs (hairstyles), spiders, skulls, sunglasses, mouth expressions like kisses, scary objects with blood, etc. Let your pictures communicate something or create some comics by writing some fun stuff into bubbles.- Kids paint: Super entertaining tool to try and draw a picture with your fingertip. There are also a lot of predefined cartoon pictures that can be colored such as a mighty tiger, a panda bear, a jumping Kangaroo, pigs, an acrobatic monkey, a beautiful horse, cars, a helicopter, ships, fast rockets and many more. Discover the artist in you!
Game Features:
Talk to James and he will repeat everything you say
Touch him and he will do some funny things
James and his piano
Soundboard
Different games like 1to 60, house game, reaction game,etc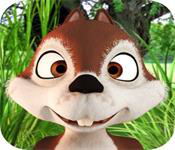 System Requirements:
OS: Windows Vista/7/XP
CPU: 1.0 GHz
RAM: 256MB
Related Games:
Top Tags
Other Top Games
Free download Talking James Squirrel Game At P5Games.