Talking 3 Friends Cats & Bunny
Talking 3 Friends Cats & Bunny Description:
The Talking 3 Friends Cats & Bunny Android App by Kaufcom Games Apps Widgets is very similar to the talking Jenna Bot app. The difference here is that you have 2 cats and a bunny who perform a series of interactions based on your interactions with both the animals and there surrounding environment as well as the pre-disposition sets of interactions that have been programmed into the app. If you are looking for an app for the kids to entertain them…Talk to the 3 Friends Cats & Bunny. They answer with her funny voices and react to what you say or your touch. Now with 3 exciting inside games with many levels to play!Features:-High quality 3D graphics-Voice interaction/animations-Exciting touch game with 20 levels inside-Great numbers game - check now the IQ and your brains memory-1to60 game incl. 1 to 60, A to Z, 2 4 6, 1 3 5 , hex, roman numerals, periodic table, octal, etc.-Cat, dog, baby, donkey and bunny animations-Special sound effectsEnjoy hours of fun and laughter with this funny app! It is especially fun for children of all ages.This is a free app - enjoy it!Recent changes:Tuning and bug fixingContent rating: Everyone.Comics & Cartoons: We have comics involving different subjects as for example: holidays, accidents, family, fish, bears and many more.Jokes Collection: Funny jokes divided in different categories. You will find funny jokes about: weather, jobs, man and woman, teachers, military, etc.General knowledge: Do you know all the things about history, machines, geology, geography, biology, environment, science etc.?Kids paint: Super entertaining tool to try and draw a picture with your fingertip. There are also a lot of predefined cartoony pictures that can be colored such as a mighty tiger, a panda bear, a long snake, a rabbit (bunny), a smart fox, cars, tracks, a space shuttle, fast rockets and many more. Discover the artist in you!
Game Features:
High quality 3D graphics
Voice interaction/animations
Piano
Soundboard
Different games like 1to 60, House game, Reaction game, Two Players Super Duel, etc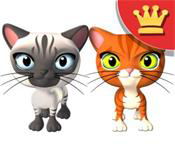 System Requirements:
OS: Windows Vista/7/XP
CPU: 1.0 GHz
RAM: 256MB
Related Games:
Top Tags
Other Top Games
Free download Talking 3 Friends Cats & Bunny Game At P5Games.