Super Mario Run
Super Mario Run Description:
A new kind of Mario game that you can play with one hand. In this game, Mario constantly moves forward through the courses while you use a variety of jumps to navigate. Mario will behave differently depending on the timing of your taps, so it's up to you to show off particularly smooth moves, gather coins, and reach the goal. The first Mario game made for play on mobile devices, Super Mario Run is a platforming adventure game that takes players through the Mushroom Kingdom. Mario runs forward on his own, but relies on the touch of a single finger to jump over obstacles, avoid pesky enemies and capture the flag pole to complete levels.Super Mario Run has a mode in which the player collects coins and heads for the goal, and a mode in which the player competes against the acrobatic moves of other people who have completed the same course. In addition, there is a mode in which you create your own Mushroom Kingdom based upon these play results.Mario and Luigi have small forms when they get hurt, meaning they can be hurt twice before being defeated; however, the rest of the characters are defeated if they touch enemies at all. If those characters touch a Super Mushroom, they earn bonus coins instead of turning super.
Game Features:
Run and jump with style to rescue Princess Peach from Bowser's clutches!
A challenge mode where the competition differs each time you play.
Gather coins and Toads to build your very own kingdom.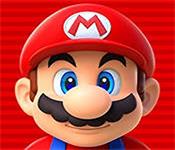 System Requirements:
OS: iPhone/iPad
CPU: 1.2 Ghz
RAM: 512 MB
Related Games:
Top Tags
Other Top Games
Free download Super Mario Run Game At P5Games.