Sumotori Dreams
Sumotori Dreams Description:
Sumotori Dreams 3D sumo wrestlers are not human beings but funny robots made out of blocks. The main goal in every match is to defeat the opponent knocking him down before he knocks you. Sumotori Dreams is not as simple as it sounds because of its tricky physics, that make the characters so clumsy that they look like they're drunk. Players will immediately notice the clumsy control over their characters. Some would say it feels as if you're controlling an intoxicated sumo wrestler! To win, one sumo wrestler has to knock the other down five times or knock them into oblivion off the side of the map. Content is very limited, with only a few maps and the same character represented by two different colors.Overall, Sumotori is a fun game that doesn't take itself serious. It's a fun game to pick up to kill a few minutes before going out with a friend or going back to work after a break. Other than that, the game does not offer much else. Fortunately, the game is free and is less than a megabyte, so the quick download is definitely worth the few hours of entertainment offered by Gravity Sensation.
Game Features:
3D rag doll physics!
self balancing robots!
destruction physics!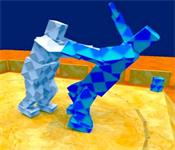 System Requirements:
OS: Windows Vista/7/XP
CPU: 1.0 Ghz
RAM: 512 MB
Related Games:
Top Tags
Other Top Games
Free download Sumotori Dreams Game At P5Games.