Subway Ninja Run
Subway Ninja Run Description:
Subway super ninja run is a very interesting running game. The ninja run and jump fantasy. There are a lot of challenges, you can discover it. More bonus with many features will make you happy. Run Ninja Run is an online Adventure game which can be played at P5game.com for free. Run Ninja Run has a rating of 3.7 (out of 5) and it is played 7283 times now. Please go to our Adventure games section if you want to play more games like Run Ninja Run! Hope you get happy and give suggestion to your friends.Help the tiny ninja run without falling and reach the longest distance. Run and jump quickly and intensively to prevent the little guy from dying in falls. It's very simple to play, one touch to jump, two touches to double jump and a long touch to long jump.
Game Features:
Easy to controls
Drag to move left,right
Drag up to jump
Tap to throw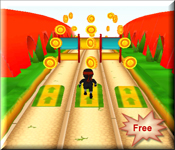 System Requirements:
OS: Android
CPU: 1.0 Ghz
RAM: 256 MB
Related Games:
Top Tags
Other Top Games
Free download Subway Ninja Run Game At P5Games.