Spongebob Truth Square
Spongebob Truth Square Description:
SpongeBob SquarePants has gotten himself into quite a predicament. After being entrusted by Mr. Krabs to keep the Krabby Patty formula safe, he is overcome with grief for losing the recipe. He then relies on the help of the most unlikely companion, Plankton, who wants the secret Krabby Patty recipe to himself. With the help of his friend, SpongeBob must use Plankton's memory machine to retrace the happiest moments of his life to find the Krabby Patty formula in time for the Krusty Krab's Eleventy Seventh anniversary.
Game Features:
New Wacky Morphing Abilities turn SpongeBob into a Sledgehammer Smash to whack intruders a WaterBob sponge to spew liquid and stun enemies or even an Explosive Canon to aim and blast baddies
Share in the Hilarity with Family and Friends Play as SpongeBob or with a friend playing as Plankton throughout the entire game on both the Wii and Xbox 360 platforms
So many creeps so little time Battle against group flying immune spawn dark and morph creeps all with different skills to challenge the best of players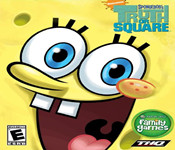 System Requirements:
OS: Xbox 360
CPU: 1 Ghz
RAM: 1 GB
Related Games:
Top Tags
Other Top Games
Free download Spongebob Truth Square Game At P5Games.