Spiderman: Friend or Foe
Spiderman: Friend or Foe Description:
The story line revolves around some unknown mastermind that is using shards from the meteor that spawned the symbiotic suit to brainwash villains such as the Green Goblin and Doc Ock to do his bidding, as well as to power an army of holographic monsters called phantoms. With the help of S.H.I.E.L.D. director Nick Fury, you trot the globe, recover the shards, and free the brainwashed villains, which turns enemies into allies. Even though the story line seems a little far fetched, the game's jokey, playful tone makes it quite refreshing, and it ultimately serves its purpose of letting you fight alongside some of Spidey's greatest villains, a concept that manages to stay novel throughout. You'll also team up with other heroes along the way, including Spiderman regulars such as Prowler, Black Cat, and Silver Sable, as well as b-team favorites such as Iron Fist and Blade. A big part of what carries the humor in Friend or Foe is the quality of the voice work, which is consistently great.You can finish tasks in different cities, including Tokyo, Nepal and Egypt. Most players are really interested into Sandman and Green Goblin. Both of them were spiderman's good friends. But because of some misunderstandings, they turn against each other. What needs to be pointed out is that this game includes altogether 12 different characters. Each of them has superpowers. According to your experience, you can choose different character to fight for you.
Game Features:
Choose a sidekick from a long list of Spider-Man's powerful allies and swap between the web-slinger and the chosen sidekicks at any time during gameplay. Each sidekick, good or evil, features their own unique attributes that will assist Spider-Man through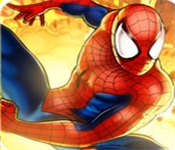 System Requirements:
OS: Windows Vista/7/XP
CPU: 2.6 GHz
RAM: 3 GB
Related Games:
Top Tags
Other Top Games
Free download Spiderman: Friend or Foe Game At P5Games.