Sonic Dash 2: Sonic Boom
Sonic Dash 2: Sonic Boom Description:
The dazzling sequel to SEGA's hit endless runner, SONIC DASH, over 140 million downloads. Featuring the cast and world of the new TV series, SONIC BOOM. Download today! New and amazing 3D worlds, challenges and game play. Play as Sonic the Hedgehog, Tails, Amy, Knuckles, Sticks and Shadow. Let's do this! Sonic Dash 2: Sonic Boom is a classic endless runner. You control Sonic as he runs through unending scenarios collecting rings (the game's currency), stars (premium currency), and orbs of power. In Sonic Dash 2: Sonic Boom it is important to collect everything you find. Power orbs you come across can be used to activate abilities, while other items purchase improvements, new characters, and more.Sonic Dash 2: Sonic Boom uses many of the same gameplay elements from Sonic Dash. The game is an endless runner, where the player directs the playable characters through never-ending 3D levels, collecting rings and avoiding obstacles, mines and enemies. The playable character automatically moves forward at all times, so the player has to utilize the characters' skills and movements to avoid or overcome obstacles.
Game Features:
CONQUER new obstacles and Badniks
COLLECT, evolve, and run with new magical Sprites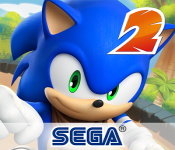 System Requirements:
OS: Windows Vista/7/XP
CPU: 1.0 Ghz
RAM: 256 MB
Related Games:
Top Tags
Other Top Games
Free download Sonic Dash 2: Sonic Boom Game At P5Games.