Real Steel World Robot Boxing
Real Steel World Robot Boxing Description:
While the movie "Real Steel" may not have been all that great, it certainly has made for a pretty good premise for a video game. After all, people would much rather control fighting Rock'em Sock'em robots than actually watch Hugh Jackman control one. The first Real Steel game enjoyed over 10 million downloads on the App Store, but what about its follow up, Real Steel: World Robot Boxing?Real Steel: World Robot Boxing is a more refined version of the first game. Many of our favorite fighters from the movie and the first game return for the sequel, and the controls are made a little more transparent and look a lot cleaner.Real Steel World Robot Boxing packs bigger punches, harder-hitting battles, and double the action of its predecessor with better graphics, brand new robots, more modes and head-to-head multiplayer. Players slug it out to prove who has the real steel to become the Ultimate World Robot Boxing Champion! Real Steel features rich gameplay and high replay value, with over 10 million downloads to date!
Game Features:
10 different arenas that barely contain these hulking mechanical brutes.
Championship, Time Attack, Daily Exhibition and Free Sparring; four diverse modes that will test your mettle AND your metal.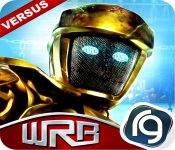 System Requirements:
OS: Windows Vista/7/XP
CPU: 2.0 GHz
RAM: 512 MB
Related Games:
Top Tags
Other Top Games
Free download Real Steel World Robot Boxing Game At P5Games.