Pixel Gun 3D
Pixel Gun 3D Description:
Try Pixel Gun 3D in MULTIPLAYER MODE with Cooperative, Deathmatch & Deadly Games. Also it is a cool modern block world shooter with singleplayer campaign and survival arena. This is a pocket edition for mobile devices. The desktop version currently is ready for download under the open beta test on the official Pixel Gun 3D website. Now you have a perfect chance to battle with your friends, classmates and colleagues or anyone else around the world. You can create and customize your character using a special skins maker and then show off on the battlefield. It is an awesome pocket FPS shooter for all kinds of players. MULTIPLAYER MODES. Deathmatch mode benefits: WORLDWIDE and local. unique maps of various shapes and sizes. Varied weaponry, ranging from Magic Bow, Combat M16 Rifle, Golden Desert Eagle and Lightsaber to the simplest things, in case you want to butcher someone with a knife. Up to 8 players in one game. Now chat is available. Talk with friends right in the battle. Challenging and exciting experience that can really get you hooked. COOPERATIVE MODE. Cooperative mode features: Up to 4 Players in one game. Chat is available as well. 8 special maps. Hardcore gameplay. Coins as a prize for top results. SURVIVAL CAMPAIGN. In this story mode your character is "face to face" with hordes of zombies attacking you from all sides. A lot of enemies from cops & robbers to nurses and swat members. You have to wipe them out otherwise you are doomed. Your only task is not an easy one - to whack all the monsters. Don't let the seeds of fear grown in your head. If you survive all the attacks of the dead, you'll face an EVIL ZOMBIE BOSS in this mod.
Game Features:
Many modes of operation of the game
Lots of communication between players from the same world
Join the exciting world of Pixel Gun 3D!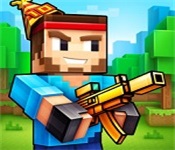 System Requirements:
OS: Windows Vista/7/XP
CPU: 1.0 Ghz
RAM: 1 GB
Related Games:
Top Tags
Other Top Games
Free download Pixel Gun 3D Game At P5Games.