My Talking Tom
My Talking Tom Description:
Dress him up any way you like by picking from a wide selection of fur colors, hats and glasses. You can even decorate his home and make it more cozy! Play with Talking Tom like never before and watch as he becomes a part of your everyday life. This app contains:Promotion of Outfit7's products and contextual advertising,Links that direct customers to our websites and other Outfit7 apps,Personalization of content to entice users to play the app again,The possibility to connect with friends via social networks,The option to make in-app purchases,Items are available for different prices in virtual currency, depending on the current level reached by the player,Alternative options to access all functionalities of the app without making any in-app purchases using real money,At Outfit7, we believe that having fun is the key to staying young at heart. It's also the key to getting kids and adults alike engaged in creative communication--a catalyst to inspiration, imagination, and learning. Which is why we have created a series of fun, quirky interactive 3D characters. You play, you giggle, you learn. Then, you pass it on.
Game Features:
Nurture your very own Tom: Play games with him, feed him his favorite foods, tuck him into bed.
Visit your friends & other players' Talking Toms: Check out the apartments and look of other Toms, find treasure chests and get coins!
Play mini-games: My Talking Tom is packed with mini-games, with many more to come. Have fun and earn gold coins!
Enjoy life-like emotions: Tom can be happy, hungry, sleepy, bored... his emotions change according to how you play with him.
Unleash your creativity: Create your very own Tom by choosing from 1000's of combinations of furs, clothing and furniture.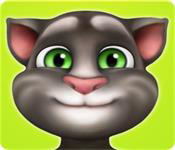 System Requirements:
OS: Android 2.3
CPU: 1.0 GHz
RAM: 256MB
Related Games:
Top Tags
Other Top Games
Free download My Talking Tom Game At P5Games.