MY LITTLE PONY - Friendship is Magic
MY LITTLE PONY - Friendship is Magic Description:
Welcome to Ponyville, home of Twilight Sparkle, Rainbow Dash, Rarity, Fluttershy, Pinkie Pie, Applejack, and all your other favorite Ponies! Something's not right in the town though, as some of the inhabitants are acting very, very strange! It's up to the Mane Six to find the source of the weirdness before it's too late! This revamped incarnation of the "My Little Pony" franchise not only appeals to the little girls that the toy line is primarily marketed to, but has drawn a cult following of teenagers, self-proclaimed "geeks," and even adults that remember the TV series, specials and films dating back to the 1980s. In this series, Princess Celestia sends her star pupil, the bookish unicorn Twilight Sparkle, to Ponyville to improve her socialization skills. Twilight quickly makes five new four-legged friends: Applejack, Rainbow Dash, Pinkie Pie, Fluttershy and Rarity. Each instilled with the respective spirits of magic, honesty, loyalty, laughter, kindness and generosity, the animals learn that by working together they can achieve the most important element of all: harmony. That ultimate underlying message may sound corny as all get-out, but the snappy dialogue and expressive animation make the treacle surprisingly palatable. This game is great! some people complain that you have to have a credit card just to finish the game, and to that I say, FOOHY. That is a complete lie. To finish the game, you don't have to buy the gems, just take the extra time to earn them! that makes the entire game free. to do this, you can find "the pony in the box" or just go on 4 or 5 days in a row to earn gems.
Game Features:
Meet Twilight Sparkle and your favorite ponies!
Hang out and interact with your ponies!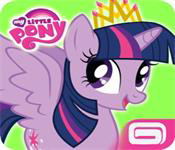 System Requirements:
OS: Windows Vista/7/XP
CPU: 1.0 Ghz
RAM: 256 MB
Related Games:
Top Tags
Other Top Games
Free download MY LITTLE PONY - Friendship is Magic Game At P5Games.