Motorbike Lite
Motorbike Lite Description:
This is the official Motorbike game by baKno Games, downloaded by hundreds of thousands of game enthusiasts to their desktops, tablets and smartphones, now finally available on Amazon for Kindle Fire, Kindle HD and any other Android device.Motorbike is a casual bike skills game full of action and real physics dynamics. It includes 80 baKno original tracks and, thousands of online tracks created by other Motorbike fans on a unique track editor included in the game.The track editor allows anyone to easily create their own custom Motorbike tracks, save them on their devices, play them anytime, and share them with other Motorbike players by submitting them to baKno.Having trouble mastering a track? At www.bakno.com/Motorbike, we showcase how to finish the 80 original tracks.This game will have you enthralled. You will find Motorbike easy to play but hard to master.NOTE: Motorbike Lite is the trial version of Motorbike that will allow you to play the first 10 original tracks in their entirety. All other tracks in this version are also playable but will stop halfway through. If you enjoy this trial please purchase the full Motorbike version also available on Amazon.
Game Features:
Motorbike is a game designed on a realistic physics engine.
It comes with 80 original tracks by baKno Games.
It also includes thousands of fantastic online tracks submitted by other Motorbike enthusiasts using the track editor that comes with the game.
The track editor allows users to create custom tracks, save them on their devices, play them anytime, and post them to baKno to be included as online tracks.
You can customize the rider, his/her outfit, the bike model and the bike color.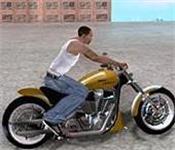 System Requirements:
OS: Windows 7/Vista/XP
CPU: 1.2Ghz
RAM: 256MB
Related Games:
Top Tags
Other Top Games
Free download Motorbike Lite Game At P5Games.