Minecraft: Story Mode
Minecraft: Story Mode Description:
In Minecraft: Story Mode, playing as either a male or female hero named 'Jesse,' you'll embark on a perilous adventure across the Overworld, through the Nether, to the End, and beyond.Story Mode draws on established Minecraft lore in a clever way, creating a world that's both deeply odd and somehow still believable – trying to scavenge enough goo to form a goo-square that will allow you to bounce through the window of a chicken machine in order to scare away a security guard somehow seems normal, rather than the complete insanity that it clearly is. Endermen, Creepers, and all manner of Minecraft terms are bandied around, and there's even a very minor bit of crafting every now and then. Those unfamiliar with Minecraft may find themselves lost at times, but even if you're not a fan of Mojang's cultural behemoth of a building game, the writing is smart and funny enough to draw you in. There are some very nicely handled moments in Episode One, in particular a training montage sequence that hits just the right comedic notes.Minecraft: Story Mode is a much more family-oriented experience than anything in recent memory from Telltale, with the writers building in plenty of goofy moments to lighten the story's world-in-peril stakes. Story Mode feels like a pastiche of beloved '80s films: the kids-going-on-an-unsupervised-adventure setup of The Goonies, the self-discovery of Stand by Me; the us-against-the-world feel of The Breakfast Club.
Game Features:
The tale begins with something going amiss at EnderCon, a gathering in the Minecraft universe.
Episode One is a promising start to Telltale's latest venture.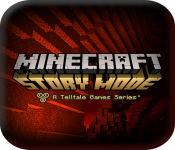 System Requirements:
OS: Windows Vista/7/XP
CPU: 1.5 Ghz
RAM: 512 MB
Related Games:
Top Tags
Other Top Games
Free download Minecraft: Story Mode Game At P5Games.