LuckyBoy and PrettyGirl
LuckyBoy and PrettyGirl Description:
Do you love fire and water (ice) style game ? This game made for you : Luckyboy and PrettyGirl - Crystal Temple Maze. One of best game adventure. One of best teamwork game . One of best Maze game ! Lucky boy and his lover (Pretty Girl - Ice girl) , who go with him, is a puzzle adventure game for two players. It's an addicting and very fun to play with your kid or your lover or your friend. Control and move Lucky boy and Ice girl through the maze in the Crystal Temple and collect all the diamonds. This game duet bested the trials of three other ancient temples or wats. Now they face the most mysterious one yet! Help Fire and Water kid get through each level quickly in this challenge game. Use the uric acid to teleport and gather gems for bonus items. Be sure to keep Lucky boy out of the water puddles. You have a long and difficult way of saving the planet! Do not waste your time, and get started your journey now!
Game Features:
Avoid obstructions.
Just tap the button "Change" to change from Pretty girl to Luckyboy
Collect gems many as you can keep him more robust..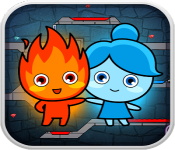 System Requirements:
OS: Android
CPU: 1.0 Ghz
RAM: 512 MB
Related Games:
Top Tags
Other Top Games
Free download LuckyBoy and PrettyGirl Game At P5Games.