LEGO BATMAN MOVIE
LEGO BATMAN MOVIE Description:
RUN, DRIVE & FLY: Play as LEGO Batman. Run, Jump and Grapple across The Bat Cave, The Street and Rooftops of Gotham & Arkham Asylum. Drive your own Batmobile and use the Batwing to fly to new environments! Battle Villain Bosses such as the Joker, the Penguin and Poison Ivy! Real Batman is good, but Lego Batman might be better. Help Batman fight crime and take care of business. Lend Batman a helping hand to fight the criminal activity in the city and take care of his company. Five mini-games are ready at your disposal. Find a way, how to save the city and how to defeat all the criminals. Become a hero the city needs as Batman. Show them that you really can do everything. Despite the game having nice graphics, are there a few optimization mistakes to be found. BUILD A CUSTOM VEHICLE: Customize your vehicles. Unlock and modify epic vehicles from The LEGO Batman Movie such as The Batmobile, the Joker's Notorious Lowrider and Bane's Toxic Truck. Once modified, deploy them into the game for an added boost to gameplay! Use them to destroy Gotham's most evil villains! DJ MODE: DJ your way to stardom in the DJ Mini Game. Tap your way to the beat of the rhythm and nail that beat! Featuring music from The LEGO Batman Movie. Each time Batman looks like he's ready to hang up his Batboots he has the opportunity to save himself with DJ MODE!
Game Features:
Help Batman do super hero works all around Gotham city.
Watch Lego Batman Movie in your local theater, it looks super funny.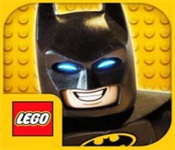 System Requirements:
OS: iPhone/iPad
CPU: 1.2 Ghz
RAM: 1 GB
Related Games:
Top Tags
Other Top Games
Free download LEGO BATMAN MOVIE Game At P5Games.