Kingdom Of Zombies
Kingdom Of Zombies Description:
n Kingdom of Zombies, you play the cretinous role of Doctor Evil, a sinister scientist and agriculturalist who harvests his own zombies on his farm, which doubles as his laboratory. Interestingly enough, if you don't take care of and supervise your farm often, the new grown zombies will die in the hostile hands of villagers within a matter of minutes. It's also important to keep their morale at a reasonable level (with "excited" being one of the higher levels) so they will be more effective when they fight.Once the they have matured and grown, Doctor Evil will utilize his legion of zombies for naturally criminal purposes by invading towns, slaying angry villagers, knights and whomever else might stand in your way, and looting each town and stealing their valuable gold and crystals. Win or loss, you will earn coins and crystals every time you engage in a battle. You cannot advance until you have defeated all the defenders in each level. To get through levels faster, you can make your zombies more effective in combat by upgrading certain attributes such as rarity (to obtain higher-level, less commonly grown zombies more often), attack level and profit gain.Kingdom of Zombies has the same fun appeal to users of all ages as an RPG game like Plants Vs. Zombies with its simple and animated interface, quirky, funny-looking, miniature characters and light cartoon violence. There are not a lot of games where the user plays as the main antagonist of the game, who is Doctor Evil in this case. Some of the other games where you can play as the bad guy include Shadow The Hedgehog and Batman: Arkham Asylum. The difference between those games and this one is that the two other games have alternate storylines for the hero and the villain, while this game does not.It would be an interesting addition if the player had the option to play as one of the defending leaders like Black Heart King to defend his kingdom from Doctor Evil and his minions. The one element that impressed me the most in Kingdom of Zombies were how clever the developers are in getting users to play more often with the game automatically killing zombies if they are not tend to immediately once they pop out of the ground. For those of you who were born in the 90s, it is similar to taking care of a Tamagotchi digital pet; they will die if you neglect them.Kingdom of Zombies is free to download in the Google Play and Amazon app stores and will only take up about 31MB of room on your phone. You do not have to worry about abusing your data plan using this app, as you will not need Internet access to enjoy the game.
Game Features:
Farm a zombie army and fight the humans for gold!
Play through the story, visit islands, see animal and human characters, and unveil the mystery!
Control your zombie upgrades and powers to battle harder!
Lots of levels to play through and enemies to defeat!
Great art work, creepy music, and loveable characters!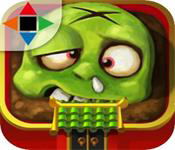 System Requirements:
OS: Windows 7/XP
CPU: 1.0 GHz
RAM: 256MB
Related Games:
Top Tags
Other Top Games
Free download Kingdom Of Zombies Game At P5Games.