John Deere: Drive Green
John Deere: Drive Green Description:
No job is too big or small! Bale hay, mow fairways, plant soybeans or corn, spray or harvest corn and more. It's up to you to do the job right! See what you can do with 500 horsepower of Green Machine! Choose from over 15 John Deere vehicles and implements including the 9860 STS Combine and Complete each job with precision and efficiency to receive bonus Deere Dollars. Unlock new vehicles and implements for your farm by using Deere Dollars! Have you ever wondered what it would be like to drive a tractor? Now you can find out with the John Deere Drive Green simulation game. In this game, you play the farmer and you need to do odd jobs to earn money that can be used to upgrade your farm and equipment.
Game Features:
In order to earn the money you need, you have to work rather fast but at the same time, you must be efficient.
They're great and just like the real thing! There are 15 different ones to match the jobs you'll be performing throughout the game.
The downside is that it can get a little repetitious doing the jobs but getting to use the different John Deere equipment makes up for it.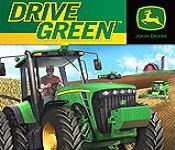 System Requirements:
OS: Windows XP/Vista
CPU: 1.5 GHz
RAM: 256 MB
Related Games:
Top Tags
Other Top Games
Free download John Deere: Drive Green Game At P5Games.