Iron Man 3 - The Official
Iron Man 3 - The Official Description:
Iron Man 3 players that refuse to spend any dough will still get a largely complete game experience, which is very appreciated. You'll have access to Tony Stark's Mark III and Mark V suits early on – 16 more, including Iron Patriot and Silver Centurion can be (sloooowly) ground out or unlocked early via in-game purchases. Unfortunately those purchases also infect the integrity of the leaderboards – when you can buy continues, score multipliers or other power-ups, the leaderboards can't be trusted, so the motivation to keep playing after the story missions to beat back your friend's scores vanishes. After the events of Iron Man 3, Tony has become a peacekeeper, but new threats emerge regularly all around the globe and Iron Man is the only one who can take care of them. Get ready for fast-paced action in this endless 3D runner! It is a successful mobile game with very high ratings, and features many of Tony's armors seen in the film. The game was created by Marvel, as well as with Gameloft, which also distributed the application through the mobile markets. The gameplay of Iron Man 3 - The Official Game is simple, yet fairly challenging. Players control one of Tony's many armors, and get to choose their own armor as they progress through the game.
Game Features:
Unleash Iron Man's power through intuitive and accessible swipe controls!
Enjoy an outstanding 3D world with cutting-edge graphics and animations!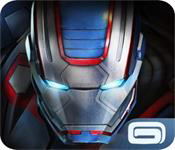 System Requirements:
OS: Windows Vista/7/XP
CPU: 1.0 Ghz
RAM: 256 MB
Related Games:
Top Tags
Other Top Games
Free download Iron Man 3 - The Official Game At P5Games.