Hunting Unlimited 2011
Hunting Unlimited 2011 Description:
Need to know where and how to download this free hunting game game? Enjoy the free & unlimited full version Hunting Unlimited 2011. Jump into the action with Hunting Unlimited™ 2011! Hunt your way across the 50 great states in two exciting challenge modes – breath in the fresh air! Trophy animals await - are you skilled enough to bag them? Track down 7 popular trophy animals, Whitetail Deer, Mule Deer, Moose, Big Horn Sheep and Wolf, Kodiak and Grizzly Bears. Watch out for bears – you may be their lunch!
Game Features:
Track down 7 popular trophy animals
Go for the trophy kill
2 new, expansive game modes – Stand and Stalking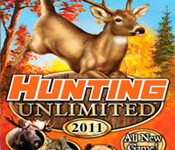 System Requirements:
OS: Windows XP/Win 7/Win 8
CPU: 1.9 GHz
RAM: 512 MB
Related Games:
Top Tags
Other Top Games
Free download Hunting Unlimited 2011 Game At P5Games.