Grand Theft Auto: Vice City
Grand Theft Auto: Vice City Description:
Welcome to the 1980s. From the decade of big hair, excess and pastel suits comes a story of one man's rise to the top of the criminal pile as Grand Theft Auto returns. Vice City is a huge urban sprawl ranging from the beach to the swamps and the glitz to the ghetto, and is the most varied, complete and alive digital city ever created. Combining non-linear gameplay with a character driven narrative, you arrive in a town brimming with delights and degradation and are given the opportunity to take it over as you choose.
Game Features:
Astonishing, innovative gameplay
Godlike attention to detail
Opportunity to drive on the beach at midnight listening to the Human League's "Fascination"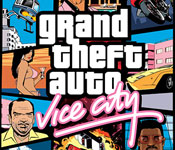 System Requirements:
OS: Windows XP
CPU: 1 Ghz
RAM: 1 GB
Related Games:
Top Tags
Other Top Games
Free download Grand Theft Auto: Vice City Game At P5Games.