Grand Theft Auto IV
Grand Theft Auto IV Description:
What does the American Dream mean today? For Niko Bellic, fresh off the boat from Europe, it is the hope he can escape his past. For his cousin, Roman, it is the vision that together they can find fortune in Liberty City, gateway to the land of opportunity. As they slip into debt and are dragged into a criminal underworld by a series of shysters, thieves and sociopaths, they discover that the reality is very different from the dream in a city that worships money and status, and is heaven for those who have them and a living nightmare for those who don't.
Game Features:
GTA4 contains fifteen multiplayer modes, supporting up to 16 players.
Mobile phones are a big part of Grand Theft Auto IV's gameplay.
It is possible to surf the internet in GTA4 via internet cafés.
Niko has the ability to climb and descend telephone poles, and exterior fire escapes.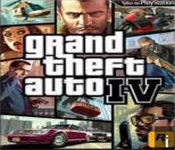 System Requirements:
OS: Windows XP / Win 7 / Win 8
CPU: 1.5 Ghz
RAM: 2 GB
Related Games:
Top Tags
Other Top Games
Free download Grand Theft Auto IV Game At P5Games.