GP Retro Free
GP Retro Free Description:
Somewhere deep in the bowels of a dusty arcade sits a racing game. The faux leather on the steering wheels is ripped and foam is protruding from the seams. The second gas pedal on the right is stuck down and won't budge. There is only one working coin slot and even that one is a gamble. Once a sought-after game that would turn the closest group of friends into trash talking competitors, this game sits abandoned now. The age of the arcade may be long past us, but we can still enjoy the charms of last gen with games like GP Retro.GP Retro is a single player racing game throw-back with unlockable tracks and "pilots." Before you can put the pedal to the metal, or finger to the glass, you only have one pilot to choose from. You'll have to place in each race, or complete the fun racing challenges to unlock new pilots. Each pilot has a series of stats that gives them certain advantages on the racetrack. Speed, Acceleration, and Grip are the stats that determine how your pilot performs. The pilots range from your standard race car driver to an elderly woman, and an alien that drives a UFO.There are 50 racing levels in total with various challenges intermixed to keep the game fresh.
Game Features:
Start an exciting race between drifting, overtaking and engines exploding!
Climb the CAREER becoming the World Champion and arriving to drive dream cars!
A quick drive game inspired by the old arcade coin op!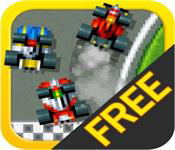 System Requirements:
OS: Windows 7/XP
CPU: 2.0 GHz
RAM: 2 GB
Related Games:
Top Tags
Other Top Games
Free download GP Retro Free Game At P5Games.