Glow Hockey
Glow Hockey Description:
The game follows all the usual rules of air hockey, but the twist is that all the graphics light up. Glow Hockey Free is visually pretty impressive, and the colorful neon table, pucks and paddles are very authentic. In fact, they might even distract you a little from the gameplay by being slightly too bright!you stand on one side of the court with a paddle with which you will have to push a puck into the opponent's goal by dragging your finger across the screentouch. But it's not as easy as it seems. What's more, at the start of game you may select the level of difficulty you want to: easy, medium, hard or insane.Glow Hockey delivers a new style of hockey game. Easy to play, hard to master. Challenge yourself with the computer opponents! FEATURES: Colorful glow graphics. Smooth and responsive game play. Realistic physics. Quick play mode (single player), challenge yourself with 4 difficulty levels (easy to insane). 4 selectable paddles and pucks. Glow Hockey is very easy to play. Just hold your finger somewhere near the paddle and drag it around. There are three levels of difficulty in this free version of the game, and the hardest level can be pretty challenging.Overall though, the lack of two player mode in Glow Hockey Free gives the game a very limited shelf life. Playing against the computer opponent quickly gets very boring.
Game Features:
Pick up and play this air hockey simulation game on your phone!
Choose from multiple table designs, colorful paddles, and pucks!
Control the paddle and puck with smooth and responsive gameplay!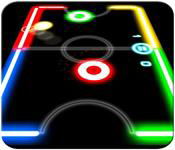 System Requirements:
OS: Windows Vista/7/XP
CPU: 1.2 Ghz
RAM: 512 MB
Related Games:
Top Tags
Other Top Games
Free download Glow Hockey Game At P5Games.