Garfield Kart
Garfield Kart Description:
Join Garfield and his friends in the funniest fast and fur-ious game!What character do you want to play with? Garfield, Odie, Jon, Nermal... you choose! Take part in no-holds-barred crazy races in either multiplayer mode or against the computer!Challenge your friends whatever platform they're on (mobile, tablet, PC, Mac, etc...) thanks to the CROSSPLATFORM multiplayer mode!Use your best driving skills and the bonus objects to be first across the finish line! But watch out... it's a free-for-all out there!It is hard to place in this game, I usually end up in fourth or fifth place by the end, which is actually typical for me in a racing game of any kind. I have now played somewhere around twenty races and out of these I have been in fifth place probably six times, fourth place around thirteen times, and third place once. I was close to third place three other times and almost had first once so I don't think it's impossible to win.I definitely think this app is worth the price and it's a great game if you need something that is quick to play as races only take a few minutes.8 BONUSES for some crazy attacks and defenses (Exploding Diamonds, Lasagnas, Pies, Magic Wand, Pillow, Bewitching Perfume, Flying Saucers),3 GAME MODES- Grand Prix / Single Race / Time Trial and 3 DIFFICULTY LEVELS: 50cc, 100 cc and 150 cc,DAILY CHALLENGE: try out a new challenge every day!CUSTOMIZE your characters with tons of hoods and accessories,2 TYPES OF CONTROL - drive the kart with the gyro or the touch buttons.
Game Features:
16 DIFFERENT CIRCUITS - stunning 3D environments from the world of Garfield (Garfield's neighborhood, the city, the Mally supermarket, the sunny farm, the misty docks, the oasis, the dark manor house, etc.)
8 CHARACTERS - Garfield, Odie, Jon, Nermal, Arlene, Liz, Harry and Squeak.
ONLINE MULTIPLAYER MODE and LOCAL MODE: invite your friends and take on up to 5 opponents! Multiply the mayhem!
CROSSPLATFORM multiplayer mode - challenge your friends on any device! All they need is the game!
Use your DRIVING skills (skids, mini jumps, shortcuts)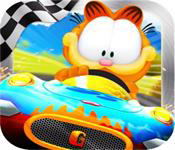 System Requirements:
OS: Windows 7/XP
CPU: 1.0 GHz
RAM: 256MB
Related Games:
Top Tags
Other Top Games
Free download Garfield Kart Game At P5Games.