Friday the 13th: Killer Puzzle for iOS
Friday the 13th: Killer Puzzle for iOS Description:
The game takes place on an isometric board divided into square fields. You have many crime tools available, such as crowbars, machetes or hammers. In order to hunt your victims, you must move your hero. You must make your prey come out of hiding or force them to a dead end. Then the main part of the game ensues, which is the killing. The puzzles are very simple initially, but as you progress things can get a lot tougher (try the 'Daily Death' puzzle for an example of how hard they get). As you make your way through the levels you'll earn more bloodlust which unlocks new weapons for you to dispatch victims with and you'll also unlock new levels and costumes for Jason. It's an addictive puzzler that is even entertaining in its easy earlier stages thanks to the comically brutal death scenes and it's tongue n cheek sense of humor. A great little game that'll tempt you with its cartoony gore and slay you with its puzzles. There are many maps boards available. You unlock each subsequent one after the previous puzzle is solved. The maps have interesting topography with various objects. They are placed on the board in such a way as to slightly hinder access to the victims and force you to think. For the killings, you get points that can be exchanged for certain upgrades. The game is brutal and at the same time keeps you on your toes. It's possible that only the players with strong nerves or a peculiar sense of humor try this game.
Game Features:
At the urging of his now-decapitated mother, the hockey-masked murderer takes gruesome revenge on an assortment of hapless campers.
The game was created by Blue Wizard Digital, whose previous title, Slayaway Camp.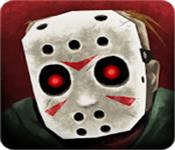 System Requirements:
OS: iOS
CPU: 1.2 Ghz
RAM: 512 MB
Related Games:
Top Tags
Other Top Games
Free download Friday the 13th: Killer Puzzle for iOS Game At P5Games.