Exploration Lite
Exploration Lite Description:
Exploration is a game - editor which allows you moving, building and transforming the terrain in the 3D environment.Exploration offers free movement, exploration, building and transformation of three dimensional worlds using a palette of available blocks.The current version of the game gives the players 99 different types of blocks, including various terrain, ladders, lamps, plants and various equipment. The game simulates a water flow and a light propagation.Players can move building blocks quickly and easily using arrow keys on the screen, while accessing the menu gives choices of terrain style and the types of building blocks, accessories and furniture choices players need to create their imaginary landscapes.The Exploration Lite gaming app is free for download but players can upgrade to Exploration which is the complete version of the game when they want to access all gaming abilities. Saving landscapes and buildings is not possible with the free app. Anyone who finds Minecraft an addictive, exciting game to play will discover Exploration offers different challenges.
Game Features:
Block types: 99 different types including TV set
World sizes: various, from small to large - hours of exploration
World generators: realistic Earth, Flat, or Flying Blocks
Water and light simulation: better than other similar games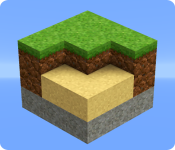 System Requirements:
OS: Windows 7/8
CPU: 1.2 Ghz
RAM: 512 MB
Related Games:
Top Tags
Other Top Games
Free download Exploration Lite Game At P5Games.