Epistory: Typing Chronicles
Epistory: Typing Chronicles Description:
Epistory immerses you in an atmospheric action/adventure game where you play a girl riding a giant fox who fights an insectile corruption from an origami world. As you progress and explore this world, the story literally unfolds and the mysteries revealed. Epistory is a typing game that tells the story of a writer lacking inspiration. You play the muse, tasked with helping her finish her book Epistory won several awards for its innovative mechanics, gorgeous 3D art style and soundtrack. It also got an honorable mention for its visual art at the prestigious IGF 2016. To get the most out of Epistory, play with the graphics on "fantastic" mode.
Game Features:
The best typing game you will ever play!
A beautiful paper craft world to explore
Solve puzzles and unlock magic powers
High quality voice narration
Collect inspiration to unfold the story!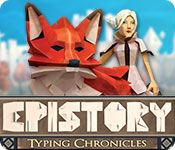 System Requirements:
OS: Windows XP/Windows Vista/Windo
CPU: 2.0 GHz
RAM: 3072
Related Games:
Top Tags
Other Top Games
Free download Epistory: Typing Chronicles Game At P5Games.