Dr. Panda's Restaurant 2
Dr. Panda's Restaurant 2 Description:
In this app, kids will be introduced to cooking through fun and exciting mini-games. They will be exposed to a wide range of foods as Dr. Panda has a recipe book which contains 10 different dishes and drinks. Among many others, it includes pizza, apple pie, corn soup, Chinese wok and fruit milkshakes.For kids, this game combines meal time with fun time, without any mess!To prepare all of these delicious things, kids will complete varied activities such as slicing, frying, toasting, mixing and baking. Besides preparing and serving food, they will also have fun while feeding the animals, decorating the dining rooms, cleaning the tables, and recycling garbage.Dr. Panda's Restaurant is re-opening, and this time all the choices are yours! Make the pizza of your dreams, a pasta dish to rave about, or a soup so spicy your customers will breathe fire! Sweet or salty? Spicy or bitter? It's up to you! Kids can take charge in their own kitchen in Dr. Panda's Restaurant 2! Future fine chefs have the freedom to choose what they want to prepare and exactly how they'd like to prepare it! Chop, grate, blend, fry and more with over 20 ingredients and create the perfect (or perfectly disgusting!) dish! Feed them to your customers and pay attention to how they react--it'll be different every time! In Dr. Panda's Restaurant 2 you can be a master chef, so get cooking! Download Dr. Panda's Restaurant 2 NOW and start cooking!
Game Features:
Choose from over 20 ingredients: Fish, kiwifruit, eggs, peppers, tomatoes and more!
Chop, bake, boil, fry and more to make the perfect dish!
Experiment and have fun! No time limits or scoring.
Check out how customers react to what you use and how you cook! Dozens of different reactions to see!
Vegetarian mode included!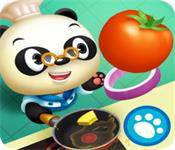 System Requirements:
OS: Windows Vista/XP/7
CPU: 2.0 GHz
RAM: 1 GB
Related Games:
Top Tags
Other Top Games
Free download Dr. Panda's Restaurant 2 Game At P5Games.