CSR Racing
CSR Racing Description:
CSR Racing combines a number of fun mobile racing tropes into a single, streamlined experience that is fast, enjoyable, and stylish. While not a breakthrough in mobile gaming, CSR Racing offers a unique set of options and gameplay modes that we haven't seen in other drag racing or street racing games, and it is immensely addictive as a result.After opening CSR Racing, you'll be inundated with the unique style the app should be best known for. The music is ambient, the animations are slick and professional, and the tutorial is thorough (and a bit cheeky). Load times are at first a bit slow, but the races are quick and there was never any slowdown in our play. The actual mechanics are simple at first -- press go and tap to shift as needed to get your car over the line first -- but as you progress, you'll unlock other features, car upgrades and new game modes that stretch the gameplay a bit. Attractive without being mind blowing, CSR Racing looks and runs well, and it is addictive with a number of "please come back" features.If you are looking for a new mobile racing experience that is fast paced, easy to pick up and play, and has a ton of rewards to look forward to as you progress, download CSR Racing. It's not a perfect racing game, but it is very enjoyable and will keep you playing for many days or weeks to come.
Game Features:
Officially licensed vehicles, including Audi, BMW, Chevrolet, Ford, McLaren and more!
Jaw-dropping graphics with cutting-edge, high fidelity visual effects!
Customize your ride, outfit it with nitros, new tires and more!
Take on five colorful street gangs in an exciting single-player story!
Compete against other players to rule the world in multiplayer!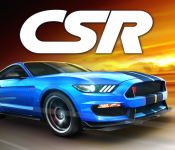 System Requirements:
OS: Windows 7/XP
CPU: 2.0 GHz
RAM: 1.2GB
Related Games:
Top Tags
Other Top Games
Free download CSR Racing Game At P5Games.