Chicken Invaders 2
Chicken Invaders 2 Description:
Chickens are invading the solar system and it's your job to save humankind. Just when you thought it was safe to eat chicken; Chicken Invaders 2 has arrived and an organized invasion is underway! Journey to the planets and fight to save the world (again)! Advance through waves of invading chickens while avoiding falling eggs. Collect power-ups to boost your spaceship's firepower. Download this fast-paced arcade action for 1 or 2 players.
Game Features:
Avoid falling eggs.
Collect power-ups and boost firepower.
Arcade action for 1 or 2 players.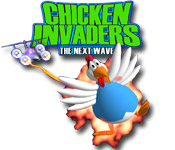 System Requirements:
OS: Windows XP/Vista/7
CPU: 600 Mhz
RAM: 128
Related Games:
Top Tags
Other Top Games
Copyright 2013 - 2017 P5games.com E-mail:xiao38fei@gmail.com. All Rights Reserved!
Free download Chicken Invaders 2 Game At P5Games.