Castle Clash
Castle Clash Description:
Castle Clash is a freemium strategy game created by IGG.COM. In it, you'll construct and defend your base, gather resources, build an army, and attack enemies. Gamezebo's quick start strategy guide will provide you with detailed images, tips, information, and hints on how to play your best game.Getting Started:Castle Clash is free to play and can be downloaded by clicking the "Play Now!" option at the top of this page.When you play the game, you must have a constant internet connection. This is due to the ability to attack and be attacked by other players at any time.After loading the game and downloading any updates, you will be greeted with the "Newbie Guide," a brief tutorial that touches on a few of the major gameplay elements in Castle Clash.Building Your Army:The "Attack" option in the shop provides access to five key offensive structures: Army Camp, Heroes Altar, Hero Base, Arena, and the aforementioned Relic Hall.The Army Camp works as both a barracks and a guard post. Each camp can hold a certain capacity of troops and each type of troop will consume a set capacity (Guardians require one, Treants require four, etc.). The total capacity will increase as the Army Camp is upgraded. The Army Camp is also a key defensive structure, as any stationed troops will attack nearby enemies during a strike.Build and battle your way to glory in Castle Clash! The heat is on in the most addictive combat strategy game ever! Hire legions of powerful Heroes in your quest to become the world's greatest Warlord. In a brilliant mix of fast-paced strategy and combat, Castle Clash is a game of epic proportions! Create an army loaded with Elves, Dwarves, Beasts, Robots, and more. Your empire is as strong as your creativity!
Game Features:
Build and upgrade your impenetrable fortress!
Create the ultimate army from a dozen wild troops!
Fast-paced, thrilling, and realistic battles!
Pit your Heroes against other Players in the Arena!
Tap and swipe to cast powerful spells!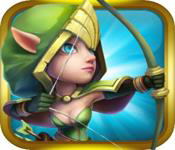 System Requirements:
OS: Windows Vista/7/XP
CPU: 1.0 GHz
RAM: 256MB
Related Games:
Top Tags
Other Top Games
Free download Castle Clash Game At P5Games.