Ben 10: Up to Speed
Ben 10: Up to Speed Description:
Welcome to the Ben 10: Up to Speed Omnitrix Runner Alien Heroes Walkthrough where our team of contributors will help you work through the game via a step-by-step tutorial. A Gamewise walkthrough aims to take you all the way through the game to 100% completion including unlockable quests and items.The game features 3D running game controls, alien upgrades, a total of 60 levels and multiple level paths to add replay value. Initially, the player will have access to five different alien forms, as the game progresses, more aliens will be unlocked, including aliens from the new animated series.MEET BEN TENNYSON-Ben can use the alien watch known as the Omnitrix to turn into alien superheroes, each with amazing abilities.UNLEASH ALIEN POWERS-Turn into the super-strong Four Arms, the fiery Heatblast, the lightning-quick XLR8 and more incredible aliens. Use their individual powers to blast the bad guys, smash through obstacles and access alternate paths.POWER UP THE OMNITRIX-Level up your aliens and the Omnitrix itself to become faster, stronger and more heroic.MORE ALIENS, MORE LEVELS, MORE BOSSES-Stay tuned for massive updates! We'll be adding new aliens with their own unique powers. You'll also get new levels & environments and new boss battles to test your skills.Master the Omnitrix and its aliens to save the day in BEN 10: UP TO SPEED!
Game Features:
Run, jump and smash your way past enemies, obstacles and supervillains!
Use Ben 10's alien powers to blast the bad guys and smash through obstacles!
Uncover alternate paths using specific alien abilities!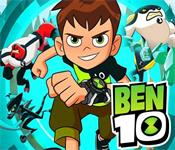 System Requirements:
OS: Windows 7/8
CPU: 1.0 Ghz
RAM: 1 GB
Related Games:
Top Tags
Other Top Games
Free download Ben 10: Up to Speed Game At P5Games.