Avengers Hero VS Alien Robot
Avengers Hero VS Alien Robot Description:
The alien robots invaded Earth and they have hidden in a secret place, planning to destroy the earth. In order to protect the earth, the Avengers battle the alien robots. Take control of Captain America and Iron Man and navigate through all the levels in order to reach the alien robot's lair and take them out. Use arrow keys for one player and for the 2nd one use 'W, S, A, D' to move and jump.With your favorite game genre fiction, the game Avengers VS Alien Hero will make you satisfied. Before joining the game choose to ally themselves together to destroy the robot aliens invade Earth. The robot in a secret place and schedules invaded and destroyed the earth. to protect the earth to protect people and Alien Avengers together to fight the alien robots.
Game Features:
1P:A/D to move,W to jump,J to attack
2P:←/→ to move,↑ to jump,key 1 to attack.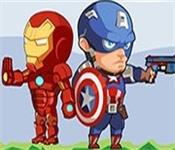 System Requirements:
OS: Windows Vista/7/XP
CPU: 1.2 Ghz
RAM: 512 MB
Related Games:
Top Tags
Other Top Games
Free download Avengers Hero VS Alien Robot Game At P5Games.