3D Monster Truck Driving
3D Monster Truck Driving Description:
As a kid, have you had fun driving Trucks, Buses and tiny toy Trucks? Get ready to handle the Monster Truck of your dreams. Collect treasure and reach the finish line before time runs out. Drive in excellent designed 3D deserts, forests and mountains.It's time to get ready for the thrill or cover up your eyes if you can't win the race! Includes several types of monster trucks in more than 100 levels across the world with mountains, deserts and forests. Control your monster truck by tilting your device, or use touch control for steering.HOW TO PLAY :Collect treasure scattered on the track before reaching the finish line.Clock is ticking and you have to reach finish line before time ends.Each level is a mission, expand the map to see the mission objectives. Guided Map to identify your current location, end objective and treasures in the way.Tried this out (b4 the having the kids play). Even though it looked nice it didn't look like much to do. Of course, I only went a few runs b4 I was frustrated with it, trying to do a good or better run at the same time keeping it straight. It turns so fast. So hard to turn it slowly or just a bit. I know my younger kids won't be able to play this, most likely my teenager can.
Game Features:
✔ 100+ Challenging Missions
✔ Continuously upgrading Levels, Episodes, Truck types and Environment exposures.
✔ Multiple driving modes
✔ Option to Control monster truck either by tilting your device or by using touch control for steering.
✔ Precision Steering controls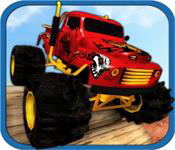 System Requirements:
OS: Windows 7/XP
CPU: 2.0 GHz
RAM: 1 GB
Related Games:
Top Tags
Other Top Games
Free download 3D Monster Truck Driving Game At P5Games.